To jedyny w swoim rodzaju duathlon na wyścigowym torze samochodowym i motocyklowym. Szybka trasa, profilowane zakręty i okazja do rekordowych osiągów prędkości. Razem z duathlonem wystartuje 4. Bieg Formuła 1 na 5 km. To okazja do ustanowienia "życiówki" na bardzo szybkiej trasie.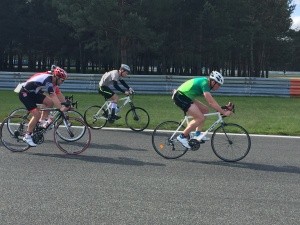 Najważniejsze informacje:
1. Duathlon odbędzie się w dniu 7 kwietnia 2018 r. po Torze Poznań.
2. Start: godz. 11.00. Zawodnicy startują razem z zawodnikami biorącymi udział w 4. edycji biegu "Formuła 1" na dystansie 5 km.
3. Długość trasy duathlonu: 23 km (bieg – 5 km, rower – 16 km, bieg – 2 km).
4. Trasa w całości na wyścigowym Torze Poznań.
5. Strefa zmian i meta: prosta startowa/ pit-stop.
6. Pomiar czasu w systemie chipowym.
7. Punkt odżywczy (napoje) będzie się znajdował w strefie mety.
8. Zawodników obowiązuje limit czasu wynoszący 2 godziny. Zawodnicy, którzy nie ukończą wyścigu w limicie czasu zobowiązani są do zejścia z trasy na Torze Poznań i nie będą sklasyfikowani.
9. Strefa zmian zostanie otwarta dla zawodników o godz. 9.30 i zamknięta będzie o godz. 10.30. W strefie zmian mogą przebywać wyłącznie zawodnicy z przypiętym w widocznym miejscu numerem startowym. Wejście do strefy zmian obowiązkowo w zapiętym kasku rowerowym na głowie. Po wstawieniu roweru i sprzętu na zmianę zawodnicy muszą opuścić strefę zmian.